How do you monitor branding?
It may seem that brand watching is a labour intensive task, so it's no wonder that it usually becomes a low priority.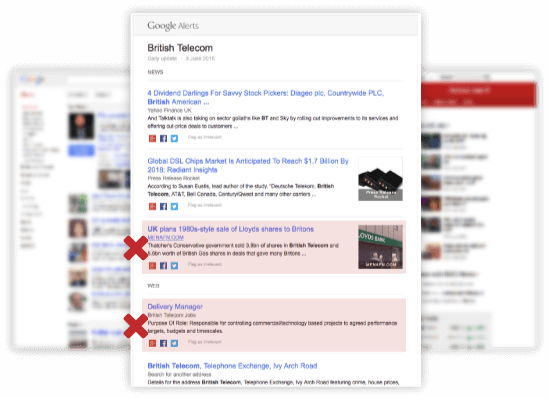 Google Alerts often throws up false alerts and doesn't let you share results or dashboards.
Manually checking websites for news, promotions, launches, etc. requires staff to take time out from their busy schedule to look for updates.
Social media monitoring can prove difficult with the volume of tweets and conversations.

Take your brand watching into the 21st Century
WatchMyCompetitor.com makes it easy for you to follow specific brands, with an automated news monitoring, brand web site and social media tracking service. Our intelligent robots monitor your online interests 24 / 7, 365 days a year and alert you when a brand change of interest occurs, so you get the latest news as and when it happens.

Our brand website tracking service can automatically monitors key brand pages for vital information such as news, promotions, product launches and management changes. Easily track brand social media pages such as Facebook or Twitter so you are always on top of their social media activity. You can filter out false news alerts or irrelevant news so you don't waste any time.
You can specifically track news articles about the brands you're interested in.
You can keep history of brand web site changes over time and watch developments as they happen. You'll receive automated alerts via email or the dashboard.
Set up different dashboards for monitoring different products or business lines, customised to your personal preferences. You can share dashboards with colleagues across your organisation. You can export news articles to reports for easy internal sharing.

Who Uses Our Brand Tracking Service
Used by businesses of all types and sizes - ranging from small businesses to the
largest global corporates. Here are some examplesof how our customers use our
service:
Who Uses Our Service
Our service is used by companies of all types and sizes, ranging from small businesses to the largest leading global brands.Typical users of our service include:
Ecommerce

Monitoring key competitor webpages for special offers , newly listed brands,delivery channels, helping team understand competitor multi channel retailing.

Marketing

Monitoring competitors, industry press, news sites , industry discussion forums.

Competitor Intelligence

Monitoring competitor web sites including social media channels such as Facebook, Twitter and Youtube.

Product Development

Monitoring competitor product offering, watching for new capabilities, pricing changes.

Sales

Monitoring key customers for news announcements and potential customers for new opportunities (eg new branch opening).

Legal

Monitoring IP and competitor product claims,monitoring legal and regulatory channels for new announcements eg EU legislation sites.

Management

Monitoring key client relationships, key industry personnel, key industry announcements.