News tracking
WatchMyCompetitor allows you to automatically receive news alerts for items of interest. For example, you can easily receive news alerts on competitors, partners and key clients.
Different news alert dashboards can be easily setup. For example, one dashboard for competitor news and another dashboard for key client news.
Dashboards can also be shared with different colleagues.
Once setup, our automatic monitoring will alert you to news articles of interest via email or the online dashboards.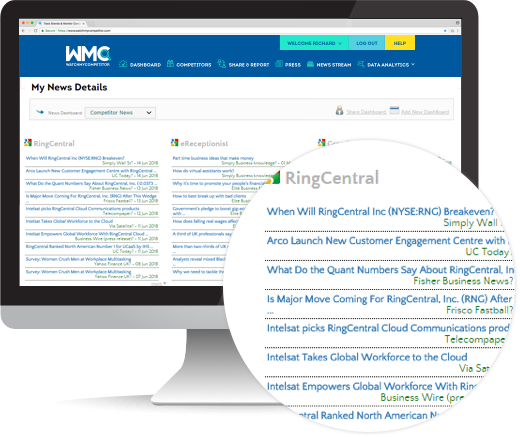 News alerts dashboards
News articles are listed with the most recent articles first.
Click on an article to view the original source.
Easily tune your news alerts to remove news that you are not interested in and to limit news to a particular country.
Share news articles with colleagues through the reporting feature.
Translate foreign language articles at the click of a mouse.
Share your news alert dashboards with colleagues across your organisation.
Mobile news alerts
Take your news with you - read your personal news alert dashboard while on the move with our free companion App.
Our news alert service works with iOS and Android phones and tablets. Easily add and edit your news searches through your mobile device.
Our language translation feature instantly translates news articles to English or your local language , particularly useful for global brands
Who Uses Our Service
Our service is used by companies of all types and sizes, ranging from small businesses to the largest leading global brands.Typical users of our service include:
Ecommerce

Monitoring key competitor webpages for special offers , newly listed brands,delivery channels, helping team understand competitor multi channel retailing.

Marketing

Monitoring competitors, industry press, news sites , industry discussion forums.

Competitor Intelligence

Monitoring competitor web sites including social media channels such as Facebook, Twitter and Youtube.

Product Development

Monitoring competitor product offering, watching for new capabilities, pricing changes.

Sales

Monitoring key customers for news announcements and potential customers for new opportunities (eg new branch opening).

Legal

Monitoring IP and competitor product claims,monitoring legal and regulatory channels for new announcements eg EU legislation sites.

Management

Monitoring key client relationships, key industry personnel, key industry announcements.