According to Intelligence Week, a third of large organisations will adopt competitive intelligence by 2023. And it should come as no surprise.  After all the McKinsey Global Institute reports that data-driven organisations are 23 times more likely to acquire customers and 19 times more likely to be profitable.
In worsening economic conditions, competition for revenue in most industries will become even more fierce. In this business environment smaller organisations have to adapt quickly to survive and grow. If decision-making in your organisation relies too heavily on instinct or old information, you risk losing out to industry competitors harnessing real-time data. Whereas competitive intelligence can give you an advantage over those vying for the same customers and market share.
But competitive intelligence can take many forms, from dashboards that capture everything that's happening in your sector to alerts on specific areas, such as product changes, pricing or campaigns. One of the most exciting arrivals in the competitive intelligence space has been battle cards, which are changing the way organisations build knowledge and insight across their organisation. In this article, we'll give you a better understanding of what battle cards are, how you can use them and how to go about creating them.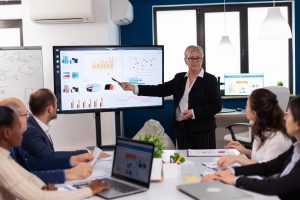 What Are Battle Cards Within The Context Of competitive intelligence?

Battle cards are a digital competitive intelligence asset. They provide a real-time snapshot of what your competitors are doing and how they're presenting themselves online. They often contain insights into your competitors' propositions, strengths and weaknesses; however, they can also be customised according to your overall company or department's specific requirements.


Battle cards are often used by sales teams when competing head-to-head with other businesses for a new contract or commercial opportunity. The cards provide fast insights that can be used to refine their approach, identify weaknesses and gain an advantage.


But that's not all. Increasingly, they're being used across entire organisations, giving people in different departments and teams a way of seeing and understanding the competitive landscape they operate in. In many instances, organisations will create a battle card about their own business too, as a way of understanding how they compare to their competitors across set criteria.
How Do You Create Competitive Intelligence Battle Cards?


Battle cards are typically created using a competitive intelligence or insights tool, such as WatchMyCompetitor (WMC), Crayon or Klue. Broadly speaking, these solutions monitor competitor activity and mentions online across a wide range of channels and provide intelligence in the form of alerts and reports.

For many organisations, these platforms have replaced manual processes for tracking competitors and understanding the competitive landscape. They've become a valuable tool for making better decisions and optimising strategies – both as an organisation and within specific departments.
The approach differs from tool to tool. But when creating your battle card from scratch, here are some of the things you'll need to consider:
1. What is your team trying to achieve?
The clearer your wider company's or department's goals, the easier it is to create your battle cards. Maybe you're competing with a small number of competitors for a specific contract and want to give yourself an advantage.
Or perhaps you want to help people throughout your organisation to understand what's happening in the market, so they can make decisions that protect and improve your position. Or maybe you're narrowing in on one area, such as product development, and want to make sure your roadmap is fit for purpose. Defining what you want to want or need to achieve will inform your other key considerations.
2. Which competitors do you want to track?
The competitors that you will need to track typically will fall into 2 categories: 
Primary or direct competitors – these are the organisations you compete with for market share with similar propositions to yours. Depending on your sector, this could be a business you come up against in sales pitches or be the brand you're most likely to be compared with by consumers. 

Secondary or indirect competitors – this can include the organisations you compete with for market share with different propositions to yours, new entrants who are growing but not yet at the same level as your organisation or organisations operating in different territories. 
Use your goals to inform who you want battle cards for. Once your battle cards are created, you can typically view them side-by-side in a battle grid for a snapshot of your market.
3. What type of competitive intelligence do you want to track?
Your goals should also inform what you want in your battle card. Here are some examples of what you might want to include:
Messaging

Promotions

Pricing

Product/service updates and changes

Partnerships

Investments (inward and outward)

Social media content

Social media follower or engagement numbers

Review site scores
The best battle cards are automated, meaning they update in real-time to provide an up-to-date view of what competitors are doing and saying. 
Most competitive intelligence platforms offer analysts as an added extra to review and analyse the data that's captured through their software. WMC offers them as part of its standard subscription (screenshot below). As well as analysing the data that's captured in your dashboard, they help you to build your battle cards from scratch.
3. Who needs access to the battle cards?
Competitive intelligence is at its most valuable when it's in the hands of the people who'll use it. You may want to share your battle cards with a specific department, such as sales or marketing. Or just with senior management. Or make it accessible to everyone in the organisation. 
As with the other considerations, your decision will likely be informed by your goals and how you want or expect the intelligence to be used.  Unlike a competitive intelligence dashboard that might be managed by the marketing and insights team, with alerts being distributed to relevant internal stakeholders, the growing trend for battle cards is to make them accessible to a much broader audience so that the entire organisation is making smart, informed decisions.
4. How will you share your battle cards?
Having decided who needs them, the next step is to choose how. If you're using real-time battle cards, the best approach is often to host them on a shared drive or portal. This could be something like Sharepoint, Teams or your company intranet. 
Having a link for 'Competitors' and presenting them as intelligence battle cards is a way to provide rich, up-to-the-minute information about each relevant competitor to the right audiences as and when they need them. And depending on the systems you're using, you should be able to control access as required.

Why Battle Cards Will Transform Your Competitive Intelligence Strategy

The benefits of competitive intelligence are clear. But to get the most from your investment, you need to make sure the insights you capture reach the right people in your organisation, are easy to understand and easy to use. That's what battle cards give you:
1. Speed and efficiency
With battle cards, you can get competitive intelligence to more people quickly and efficiently. Employees don't need to log into software tools and go looking for the information. Battle cards are an asset that can be shared as easily as sending an email.
2. Easy of use
The data is presented in a way that's easy to understand – think Top Trumps but for business. So the people you share it with don't need to be data experts. That makes it easier for people in any department across your organisation to understand and use.

3. Accurate information
If those battle cards are auto-updated, you can trust that decision-making throughout the organisation is being informed by real-time intelligence. That every strategy, product roadmap or campaign has been built with full knowledge of what your competitors are doing right now – not three months ago. That should lead to better decisions and better results.
4. Easy comparison
By making your battle cards consistent in format and criteria, each one will be easy to compare with others. You'll be able to identify which competitors are strong in specific areas and how you stack up against them. Each card can be presented in isolation or as part of a battle grid.

Make Smarter Decisions Faster With WatchMyCompetitor


Unlike other intelligence solutions that serve up hard-to-mine unfiltered data, or which collate insights into periodic reports that lack immediacy, WatchMyCompetitor is the complete competitor intelligence platform. 
We use AI to track your competitors' global digital footprint in real time, so you don't miss anything important. While our market experts analyse and curate the most relevant competitive insights on your behalf. 
That means no more sifting through unmanageable volumes of data. You get fast access to relevant, timely intelligence to optimise strategies, outsmart the competition and protect and grow your revenue.

Don't let your competitors gain an advantage. Book a demo today.