Higher education is a highly lucrative sector. In 2020, the worldwide higher education market was worth £68.5bn, and by 2028, it's expected to reach almost £150bn – a compound growth rate of 10% every year. However, it's also an immensely competitive sector where high-calibre candidates who can pay the higher fees or secure research grants are highly sought after.
Securing their applications remains a challenge for higher education institutions, though. With so many universities targeting the same pool of students – both domestically  and overseas – you need more than a compelling proposition, you need an advantage over rivals in the sector. 
 
Difficulties faced by higher education institutions 
One of the challenges of gaining a competitive advantage is the lack of awareness of what rival institutions are communicating and their specific plans. Or at least finding out about it too late to be proactive or respond effectively. For example, what if a rival university changes its course content, a department's curriculum, tuition fees, student support policy, grade requirements or message to prospective students? Or if they make a notable investment, launch a new campaign or make a senior faculty hire? What if they elevate their reputation by appearing in a national news story?
Finding out important data late or missing a key piece of information can leave your strategies ineffective. For the longest time, this was the reality for educational institutions. Manual, laborious processes made it very difficult for universities with only limited resources to track and monitor competitor and market insights. 
Fortunately, the situation has changed with the introduction of new software solutions. Universities have begun to follow the lead of their commercial counterparts by investing in business intelligence software tools. These platforms provide competitor and market insights that can be used to inform your strategic decisions and gain that elusive competitive advantage.
In this article, we look at what business intelligence is and how it should be used within the  higher education sector , so that you have a clearer understanding of its function and value.
How Is business intelligence used in higher education?
Business intelligence is gathered by tracking competitors and by monitoring consumer sentiment and other industry sources. In higher education, that often involves tracking competing universities and colleges, monitoring student sentiment across social media and other websites, and keeping tabs on relevant industry news – such as investments, faculty appointments and regulatory changes.
Business intelligence tools have made this process faster and easier, stripping away manual processes, offering real-time results alongside periodic reporting. In some cases users of these tools also benefit from from sector analysts as part of the service. Such analysts can help you set up your dashboard so that you're tracking the right sources and types of insights. They can make sure the most relevant data is surfaced and provide analysis so the intelligence is ready to use. 
Such tools mean you can build a more complete picture of what rival higher education institutions are doing – how they're promoting themselves, what they're doing to improve their proposition and even what problems and challenges they face. You can learn what students and prospective applicants think, feel and say about specific universities, which ones they follow and engage with, what's important to them as they near such a big life decision and what could be standing in the way of an application to your university. 
Once analysed, these insights can help you to inform your strategies and plans, leading to smarter decision-making and more effective campaigns.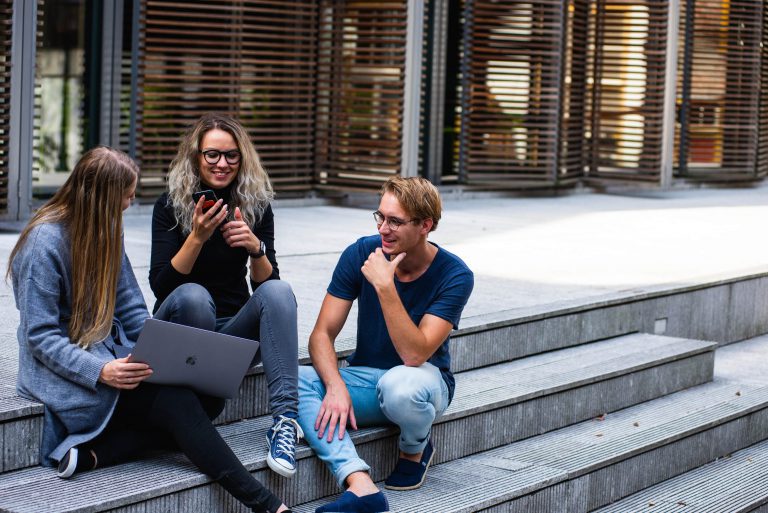 Business intelligence tracking in higher education
To get or stay ahead of the competition, higher education institutions should primarily focus on 3 areas when tracking their competitors.
The education experience 
Understanding your competitor's proposition is one of the most effective ways of benchmarking your own strategies, as well as identifying potential threats and opportunities. Here are important factors you might need to know to gauge the market:

– Have they launched something new or dropped a rival course?
– Has the curriculum changed?
– How are their courses organised by department?
-What are their tuition fees for specific courses?
– What scholarships and financial support do they provide?
– What's life like on campus and have they invested in their accommodation or is it an area they fall short in?
– What open days and campus tours are they offering?
– Do they have a good track record for diversity and inclusion?
– What mental wellbeing support is available?


All of these insights and more are out there for you to track and analyse with the right business intelligence software. You can compare universities like-for-like across set criteria – including your own – and use it to strengthen your proposition and identify how best to market it to relevant students.
2. Institutional prestige and branding
University prestige plays a big part in how prospective students make their decision. This is particularly the case if the above mentioned student experience factors are comparable. So understanding how other higher education institutions are building their brand and profile can provide valuable insight into their strategy and success. 

Here are some of the valuable factors we see being tracked about rival universities:


– Did a high-profile figure visit the university?
– Has the university been recognised for a medical or scientific breakthrough?
– Has its alumni gone on to win awards, fame or fortune in their field?
– Has the university received a significant grant due to its previous success?
– Has it been featured in a prominent publication or journal?
– Did a former student or philanthropist make a significant donation?
How competitor universities are perceived locally, nationally and internationally or, in specific fields, can have a huge bearing on their ability to attract applications – particularly from very high-calibre students. As with the university experience, business intelligence taken from the press or other relevant publications can give you insights that inform your approach and expose threats and opportunities.
3. Academic and industry research reputation
Another important factor in a student's choice of university is their research reputation, particularly for high-calibre and overseas students. Here's what you could track regarding your competitors:
– Has a famous academic joined the university?
– Has someone notable departed?
– Have they received a major grant or even a minor one for a department?
– Have they broken new ground in an area of research?
– Is there a notable shift in direction or investment?
– Has a new department or institute been established as part of a major initiative by the university, company or government?

Business intelligence and the university clearing system
Clearing is one of the important points in the higher education calendar with more than 53,000 students entering into university this way. It represents a large pool of candidates and a valuable source of revenue as institutions look to fill their spaces. In addition, it's a reflection of their wider student recruitment strategy.
The competition for these students can see universities relax or adapt their requirements for specific courses. So being able to track these changes in real-time can help you to identify opportunities and wider trends with regards to an institution's student recruitment strategy. Perhaps there are certain subjects that are now suddenly sought after that went unnoticed by your team?
An effective business intelligence platform will be able to give a real-time overall picture of the situation during the university clearing months.  Therefore, you can make faster, smarter decisions at critical moments to secure the students you need.  
Business intelligence in education abroad
For social, economic and technological reasons, the English-speaking world has long been a major destination for international students – particularly Chinese students, who now represent the biggest international student group. In recent years, the UK has overtaken the US, which has seen the number of applications decline considerably. With more than 600,000 foreign students in the UK generating up to £16bn in the form of fees and accommodation, competition amongst universities is fierce. 
Business intelligence can help you learn about international partnerships, promotional events and marketing activities being run by other universities in different countries, which are noticeably different to the UK and USA. There are also cases of universities offering scholarships and grants (or rescinded) to specifically target students overseas.
Using the correct business intelligence software tool will enable you to track news outlets, websites and social media platforms across the world to learn what's happening. In addition, when and how many students are being reached, and which universities are leading the way.  All of this can help you identify opportunities and optimise the effectiveness of your international campaigns and promotions to fill spaces and grow revenue.

Concluding thoughts
Overall business intelligence in higher education is about gauging and understanding competitor strategies and success to make better decisions and attract more suitable student applications.  The immediacy and analytical support of business intelligence tools makes it easier to build a more complete picture of the sector as well as dig deeper into specific aspects of competition (e.g experience, brand or research) or specific territories (e.g. China or Europe).

By identifying key trends – such as the growth in applications from China versus the decline of applications from Europe – can also help you to address specific opportunities or challenges that can make attracting students easier and more cost-effective. A tool that can help collate and present  business intelligence is something that all higher education institutions should take into consideration to stay ahead of competitors.