Do you want to make better decisions as a business? Do you want to stay ahead of the competition by improving your strategies and plans? 
Market intelligence (or marketing intelligence, as it's sometimes called) has grown in prominence in recent years as businesses look for ways to compete in challenging economic conditions. In this article, we look at the importance of marketing intelligence and the steps needed to gather and use it effectively. 
Getting started with market intelligence
Market intelligence can help you to understand what's happening in your market and identify threats and opportunities. The insights you gather help departments such as sales, marketing and product development to improve their strategies and roadmaps, ultimately protecting and growing business revenue.
But how do you get there? How do you make sure your market intelligence investment is one that delivers the right outcomes and the right returns?
Market tracking
Market tracking is the process of gathering intelligence — i.e. insights about your market. It has traditionally been carried out manually by teams or individuals involving multiple tools. This process tends to be slow and labour intensive, with key information easy to miss. 
It often means data is captured across different dashboards, therefore requiring further time and expertise to export and analyse. More recently, with the arrival of tools like WMC, the process has been automated and streamlined, allowing businesses to build their intelligence quickly and easily.
Because the process is automated, the main challenges for businesses are to a) make sure the market tracking is set up to gather the right intelligence and b) ensure the team is ready to use and act upon what they learn.
To help you get the most from your market intelligence, we've outlined four key steps you need to consider when setting up your tracking programme.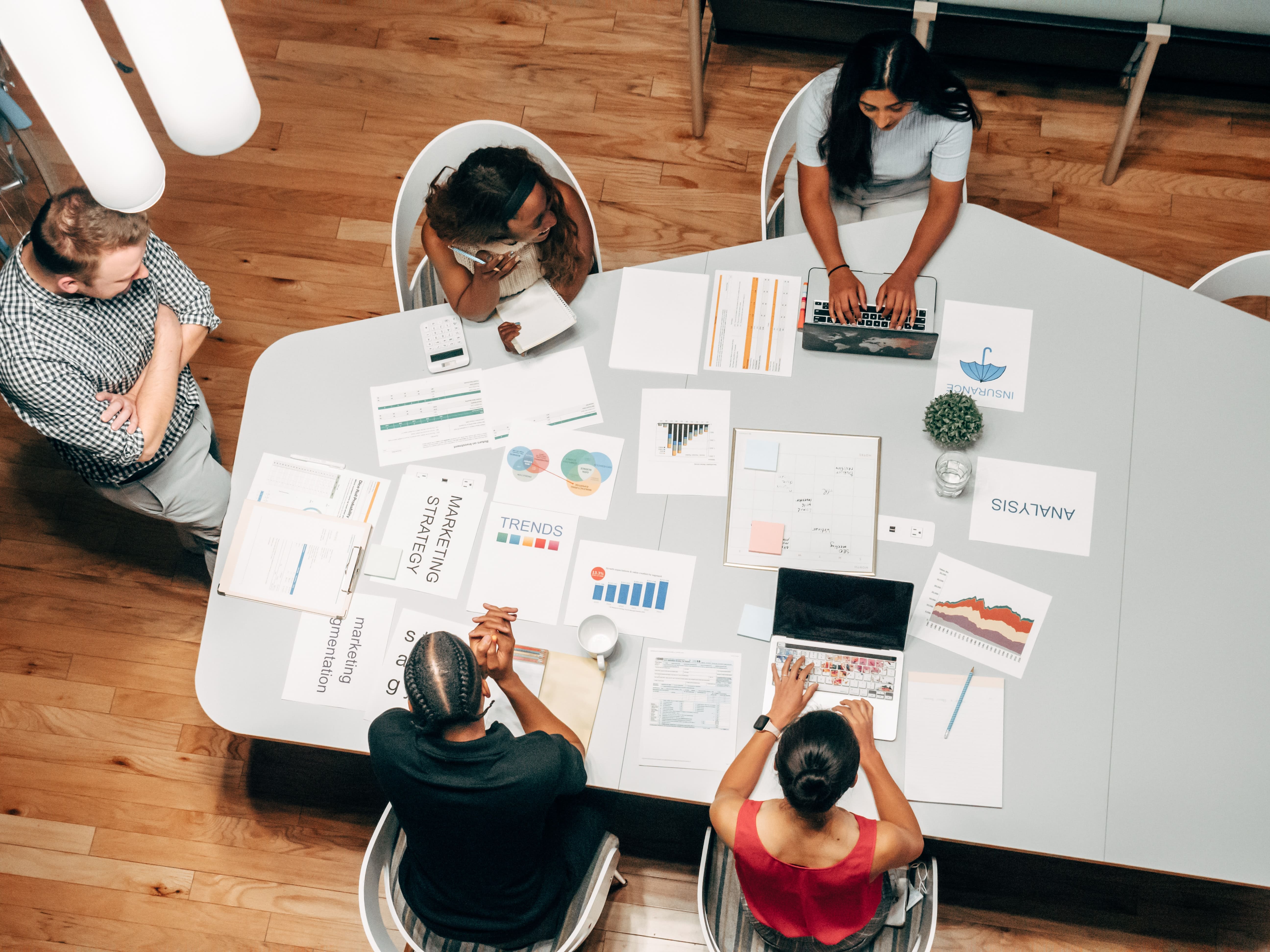 Step 1: Competitor benchmarking
Who are your competitors? If you're going to analyse your position in the market, spot opportunities for growth and identify potential threats, you need to know the competitor landscape. Having this clearly defined will ensure what you gather is relevant and useful.
It may be relatively easy to name half a dozen competitors in your market. There may be two or three direct competitors that everyone in your organisation could identify. But limiting yourself to a few could leave you exposed to threats from indirect competitors making a move into your corner of the market. 
To identify your competitor set, we recommend listing them in two columns: Primary and Secondary. Here's how we define them:
Primary competitors 
Companies that directly compete with your business and whose products or services are in the same category as your own. They are typically the companies you come up against time and time again in new business pitches or industry league tables. Or whose products sit next to yours on the shelf. 
Secondary competitors
Not all competitors have products and services that compete directly with yours. Some compete for the same customers with a different proposition. You could also include businesses that have a comparable product but don't currently compete in your territory but have the potential to in the future. 
Step 2: What marketing intelligence sources should you track?
A good market intelligence strategy will track a wide variety of online sources. That can include:
A) News outlets and journalists
Tracking publications and journalists will ensure you never miss a big announcement and pick up key information early from rumours and market commentary.
B) Industry bodies and regulators
If changes are afoot, being the first to know about them can help you prepare early and create content to establish yourself as an authority in the market.

C) Awards bodies
Whether it's to plan your own entries or see who's dominating in your market, intelligence from award bodies can add a different slant on what's happening.
D) White paper and report publishers
While white papers and reports are a form of marketing intelligence in their own right, knowing what's coming up can help you prepare internal teams and track real-time data you can use to compare with what's being published.


E) Review sites (e.g. Feefo and Trustpilot) 
One of the best ways to understand consumer sentiment is to track review sites. As well as the scoring metrics, you can learn a lot from the language and phrases used in the accompanying reviews. It can point to your own strengths and weaknesses compared to your competitors, allowing you to invest in the right areas. 


F) Influencers
Depending on the nature of your market, you can gain valuable insights into consumer sentiment via social media influencers and the engagement they get via their profiles. As with review sites, this form of market tracking can identify threats and opportunities that need to be addressed.
G) Competitors 
Although this often forms part of a wider competitor intelligence strategy, tracking their official content and social channels can give you an indication of the audience they're attempting to engage and, through engagement, how that audience feels about their brand.


All of this data can be overlayed with market research. Whereas marketing intelligence focuses on information that already exists, market research typically produces data that didn't exist beforehand. It is used to answer specific questions to help you make key decisions (e.g. How do customers use our website? What do 18-30 year olds think of our new product, etc.). Methods can include A/B testing, surveys, questionnaires and focus groups.

Step 3) Defining your market intelligence metrics
It's not enough to track the right sources, you also need to know what you intend to measure. 
From social media followers to engagement levels to review scores to mentions, there are a wide range of metrics that are worthy of your consideration. They can be tracked in real-time for up-to-the-minute scores as well as over time to provide an indication of trends and progress.
The most important factor to consider is why such intelligence is important. What do you hope to learn and how do you intend to use it? Will the scores you track correlate with revenue? Or point to strengths and weaknesses in your own brand versus your competitors' brands?
The purpose of market intelligence is to help you make better strategic decisions in how you market your products and services and build your brand. Work backwards from that fact to establish your goals and the metrics that have the biggest influence.
Step 4) Reporting your market intelligence
If you're using multiple software solutions for market tracking, your intelligence will arrive via several dashboards. Before you report on what you've gathered, you'll need to manually export the data into a centralised intelligence hub ready for reporting. 
If you're building a weekly, monthly, quarterly or annual report, we recommend grouping your marketing intelligence into sections. Graphics should be used wherever possible, dated for clarity and made as easy as possible to understand. Summary text should be used for each and conclusions should be drawn at the end of sections. Within or following the conclusions should be recommendations for how best to use what you've learned to improve strategies and plans.
Depending on the depth of intelligence you've gathered, you may want to split it out into department- or objective-specific reports, so that everything included is relevant to the recipient of the report. When sharing, it's important to give recipients any useful context relating to the purpose of the intelligence-gathering exercise, the process used and date range it's taken from.
If you use a single platform such as WMC, all your intelligence will be captured in a single dashboard, ready to understand, analyse and compare. This can speed up the process of getting intelligence into the hands of those that need it.
This can be a huge advantage. Intelligence is never more valuable than at the point it's captured in real-time, so one of the most effective ways of reporting it is to share it with relevant teams and individuals as it arrives rather than in a regular report. 
Building it into daily processes using your existing communication tools – from email to Slack or Teams to Power BI – gives the relevant people and teams more time to understand the data, adapt their strategies and respond effectively.
Informing your business strategy with market intelligence
Marketing intelligence can become a valuable strategic tool for any business in any sector, particularly those with strong competition. It can be used in isolation or form part of a wider intelligence strategy that includes competitive tracking, market research and internal business intelligence. 
With the right framework in place – from defining the competitor landscape to identifying what to track and measure to reporting – it can help you become the best-informed business in your market, giving you a sizeable advantage over your competitors.
Do you want to improve intelligence and decision-making across your business? Do you want to equip teams with the data to build better, more effective strategies to protect and grow revenue?
WatchMyCompetitor is a fully automated marketing intelligence platform that provides real-time insights into your competitors and market. Data is captured in a single dashboard, with each insight shareable through integrations with your existing communication channels — including Slack, Teams and Power BI.
If you want to protect and grow your revenue, we can help. Contact us today to book your demo.